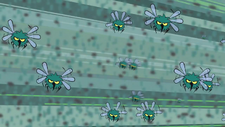 These bugs are of unknown insect species, unknown origins and are not native to the planet Earth.
Appearance
Data
In Episode 7, they are only known to be found in Laboratory 51 of causing an outbreak. They are aggressive, they bite humans and wherever they had bitten, hair grows. What's worse is that shaving the hair off, only makes it grow longer. Luckily, the Protectors' scientists made a quick cure and was sent to Agent Brains to get Fred and her beards removed.
Bitten people
Ad blocker interference detected!
Wikia is a free-to-use site that makes money from advertising. We have a modified experience for viewers using ad blockers

Wikia is not accessible if you've made further modifications. Remove the custom ad blocker rule(s) and the page will load as expected.